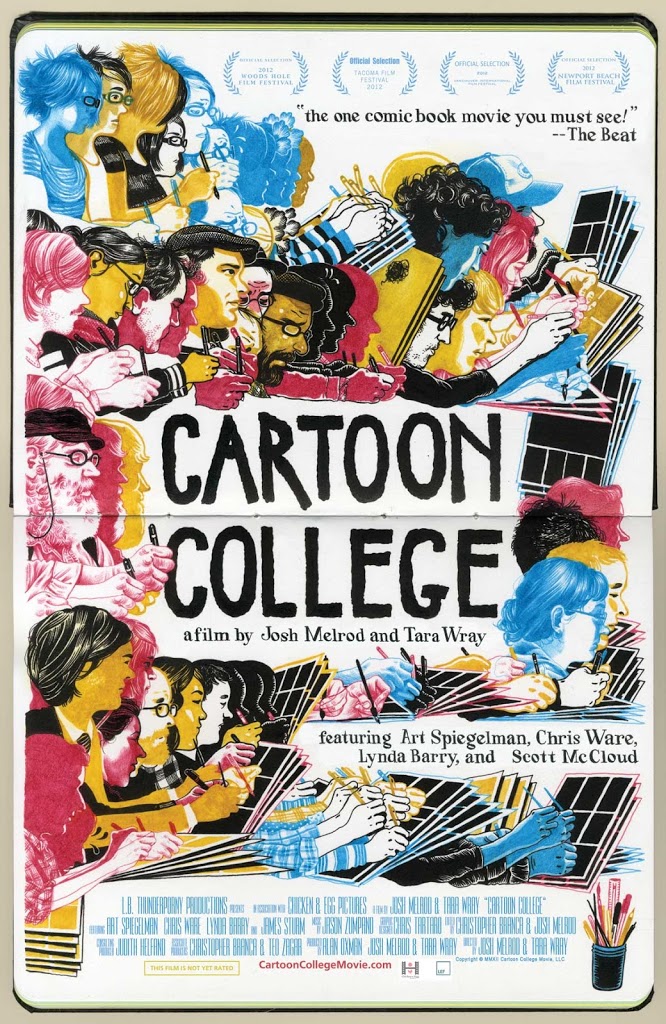 Last Thursday I attended screenings of two documentaries about very different aspects of comic book culture at the CCA in Glasgow. They were showing as part of the comics strand of the Glasgow Film Festival. First up was Cartoon College, directed by Josh Melrod & Tara Wray. The film shows students on the 2 year MFA program at the Centre for Cartoon Studies in River Junction, Vermont. CCS is run by James Sturm and features other cartoonists such as Steve Bissette as lecturers with guest teaching from the wonderful Lynda Barry, Charles Burns, and James Kochalka among others. The students were a mix of ages and confidence levels and it was hard not to warm to them. In fact, the film tugged at the heartstrings as it made you invest emotionally in their progress through the course. You were rooting for them during the final thesis evaluation and there was a real poignancy if they dropped out. At one point Lynda Barry exclaimed "I'd like to kiss everyone that creates stories with words and pictures", to which the reply came "You'd be kissing a lot of strange people". The students were all indie/alternative cartoonists and many wanted to tell personal stories about topics such as relationships with their siblings or menstruation. Bissette made the observation that students at CCS don't want to draw Spider-Man.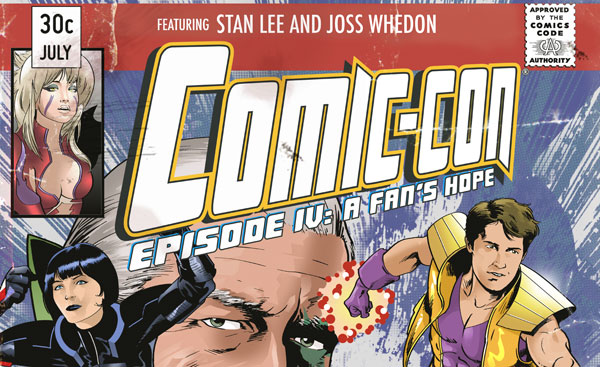 Bissette also said that there were now different groups of comics creators that had no idea of each others existence, which wasn't the case even 10-15 years ago. It was hard to believe that many of the attendees featured in the next film would be aware of the students at CCS. Morgan Spurlock's Comic-Con Episode IV: A Fan's Hope is a 'behind-the-scenes look at the fans who gather by the thousands each year in San Diego, California to attend Comic-Con, the world's largest comic book convention'. Despite Spurlock's credentials this film was not a critique of Comic-Con in any meaningful way. With Stan Lee and Joss Whedon as executive producers and Kevin Smith featured prominently, the film was actually a love letter to the yearly comic book and pop culture extravaganza. The film followed a couple that had started dating at the Con the year before as the chap struggled to find time to buy a ring to propose to his girlfriend. We also saw two artists showing their portfolios to the professionals in an attempt to break into the industry, a group of cosplayers as they constructed their outfits and rehearsed for the masquerade, and a comic book dealer as he deliberated over selling a mega-rare comic to help combat low sales. This seemed the only slight criticism, that Comic-Con was now more about games and films than comics. Everyone's story had a happy ending but their journeys seemed a little forced. It seemed to me that the media corporations are the ones that do best out of Comic-Con.
I found Cartoon College to be the much more engaging film but it was about an area of comics that I find infinitely more interesting than mainstream superhero comics. Indeed, I only attended Comic-Con IV as it was on the same day and I'd already made the 2 hour trip to see Cartoon College. I daresay a devoted Marvel fan might be bored by Cartoon College, as it does not have enough (any) Stan Lee. Of course there will be many in between that may find much to like in both films. However, I felt Cartoon College had so much more low-fi charm and independent spirit, although that's not to say it isn't a very well made film. It deserves to be seen and the good work of the school should be applauded above all the corporate hoopla of Comic-Con.