I have always considered Oliver East to be an artist who just happens to be using comics as his medium but I think that might be doing a disservice to his dedication to comics. Yes, his practice of taking long walks and then making art from them has similarities to artworks such as Richard Long's A Line Made By Walking (1967) and Francis Alÿs' Seven Walks (2005), but where those artists use different media to record their work, East consistently uses the comics artform. In a recent interview with Down the Tubes he said "treat the walk as the 'thing' first and foremost and the comic as more of a record of that thing."
Many of these 'records' have been published by Blank Slate including the collection of his self published comics Trains are…Mint (2008) and last year's Swear Down. In 2013 he also posted 200 one page Rolling Stock strips on the Comics Workbook tumblr, and he is also a member of Team Weird Comics alongside Derik Badman, Simon Moreton and Warren Craghead.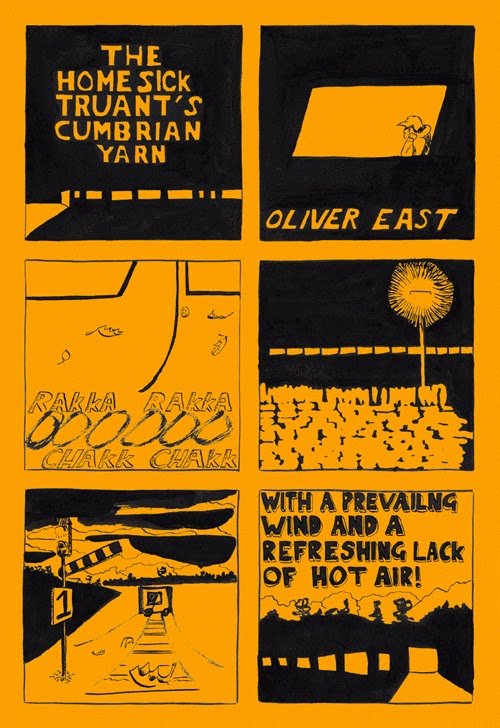 The Homesick Truant's Cumbrian Yarn (cover) by Oliver East
Despite East's prolific output I have somehow never managed to buy one of his books. I admire his work but when I was deciding what to spend my (too small) disposable comics cash on, there was always another comic I wanted to buy more. When he recently announced a new book I decided it was time to rectify this oversight. The Homesick Truant's Cumbrian Yarn is the first in a series of self-published comics commissioned by The Lakes International Comics Festival, which will cover a 200 km walk following the railway line that skirts the edges of the Lake District National Park.
The first thing that surprised me about this new book was its size, I was expecting something smaller but THTCY is an A4 24-page comic. Another difference with East's recent work, and harking back to his self-publishing roots, is that the comic is black & white with a cover printed black on orange card. It is a classic small press format and looks great. In dispensing with colour East allows the reader to focus on the mark making on his pages. There is some lovely linework, brush marks and ink splatter on these pages.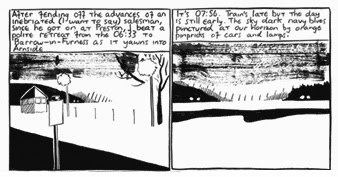 The Homesick Truant's Cumbrian Yarn page 5 (detail) by Oliver East
On page 5, for example, East has used a wide flat brush to scrape the ink across the top of the panels to create an atmospheric morning sky and two pages later he conjures up an all too believable storm with wild splashes of ink. The changeable weather can be seen on a double page spread on pages 10 & 11 as East shows the now calm landscape with 12 panels of silent comics. Simple lines suggest the distant clouds like the backgrounds in a Krazy Kat strip transported from Coconino to Cumbria.
East's deft note taking on his walks preserves his interactions with people he comes across, he describes the shooting noises of a hunting party as the 'scattergun jollies that will soundtrack the rest of my day'. We don't see the group again but the intermittent 'KRAK KOW' noise breaks the 'silence' of his panels and makes me think about how we perceive noise in comics. Other events ring true, such as the dance he performs to conceal his actions from commuters when searching for the start of the walk. A dance I have performed myself many times in unfamiliar locations.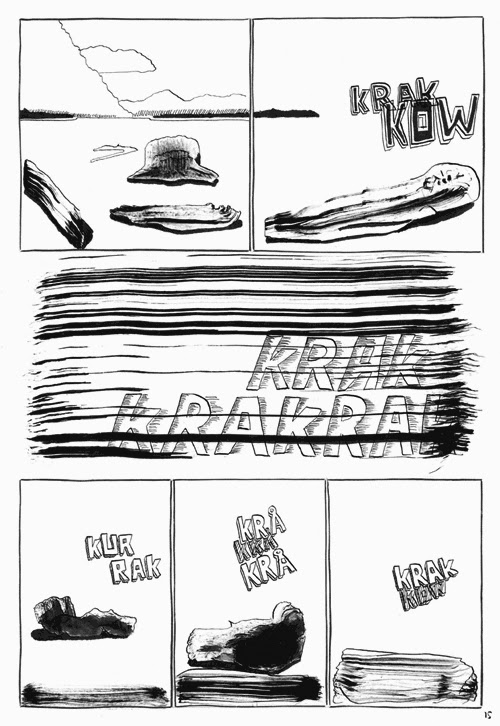 The Homesick Truant's Cumbrian Yarn page 15 by Oliver East
This book also reminds me of Eddie Campbell's work, with its mark making experimentation and distinctive narrative tone. Like Campbell, East puts paid to any idea of the exact reproduction of events in his strips "it's more how I'll remember Cumbria rather than how Cumbria actually is."  However, the voice (and drawing) here is all East's. If you have never picked up his work before this is a good place to jump on board, just as he starts his latest journey. You can order your own copy here.
STOP PRESS 
I recently noticed that East's drawing on the envelope that my copy arrived in was of the buildings on the street next to mine in my home town, a lovely personal touch. Thanks Oliver!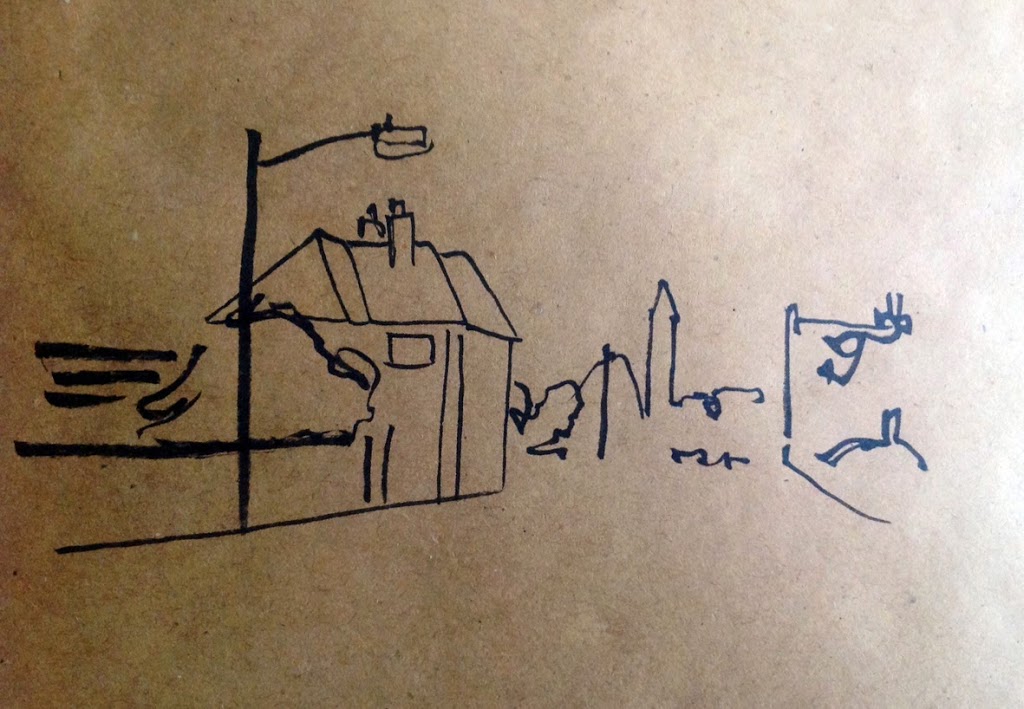 My home town – envelope drawing by Oliver East